Natural light as inspiration – how to create balance with artificial light
Nature has always inspired designers in many ways. This has to do with our collective memory as humans. Visual information that appeals to us, often has a relation to what is "natural" and what stands out. This concept of natural has been built over generations, by the environments we have lived in.
For example: downlighting appears more natural than uplighting, that is how the sun works. Which makes uplights appealing, they immediately catch the eye.
And also: we are used to certain colours of lighting at certain times of the day, also called colour temperatures. Our circadian rhythm has evolved to these biological effects, the bluish light in the morning wakes us up and we fall asleep by the reddish light of the setting sun.
When you have a basic understanding of natural light, you become more aware of the effects of artificial light. This can help to make decisions about what direction or colour of light to use in what situation, to name only a few examples.
Do you love light as much as we do? Get in touch for advice on your lighting plan, and quality lighting objects, which incorporate these practical and creative lighting insights.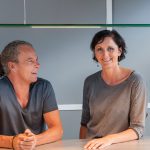 Design by Meyn, Mijntje van de Sande
light@designbymeyn.com

Ferrolight, Marike & Ferdinand Verbeek
info@ferrolightdesign.com
---
Daglicht als inspiratie
Door natuurlijk licht te begrijpen, zijn we beter in staat bewuste keuzes te maken over het aanvullen met verlichting. Bijvoorbeeld over de richting van de lichtbundel en de lichtkleur.
Meer weten over daglicht en kunstlicht? Neem contact op voor een lichtadvies door lichtprofessional Mijntje van de Sande, en design lichtobjecten uit het atelier van Ferrolight Design.
---